A B O U T A M A Z I N G C H I L E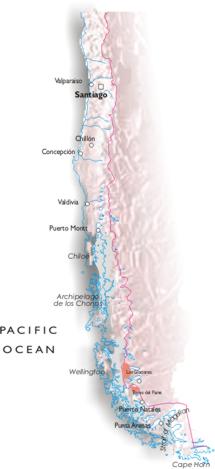 Travelling from north to south of this incredible, pencil-thin country, we shall come across hundreds of national parks from the aridity of the Atacama Desert to the wet Magallanes. A country of outstanding natural beauty, boasting many beautiful lakes, mountains, glaciers, hot springs, volcanoes, monuments
and nature sanctuaries that afford the visitor with stunning landscapes. Chile runs halfway up the western coast
of the South American continent and is home to the world's driest desert "Atacama" with its salt-flats and pink flamingos; ancient beech forests of the beautiful Lake District and volcanic peaks of the Andes. Come and explore Patagonia, with the breathtaking Torres Del Paine National Park and its world famous granite towers. You can go trekking, horse-riding, white water rafting, sea-kayaking, mountaineering or even bold fishing expeditions.
Producing some of the world's finest wines and exporting the finest seafood, Chile is a country of rich contrasts.
For the really adventurous, discover the mysteries of Easter Island, as part of Chile, this island is the most isolated, inhabited island on earth. Come with us and discover this beautiful Chile!